In and around Hochrindl, the activities in summer are endless.
We recommend that you purchase a Kärnten Card during your stay. We can provide one to you.
The Kärnten Card is the key to over 100 attractions and sights in Carinthia. Moreover, with the card you also get discounts at over 60 bonus partners. The card is valid from the beginning of April to the end of October and is available for a period of one, two or five weeks. More info www.kaerntencard.at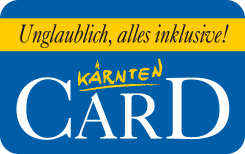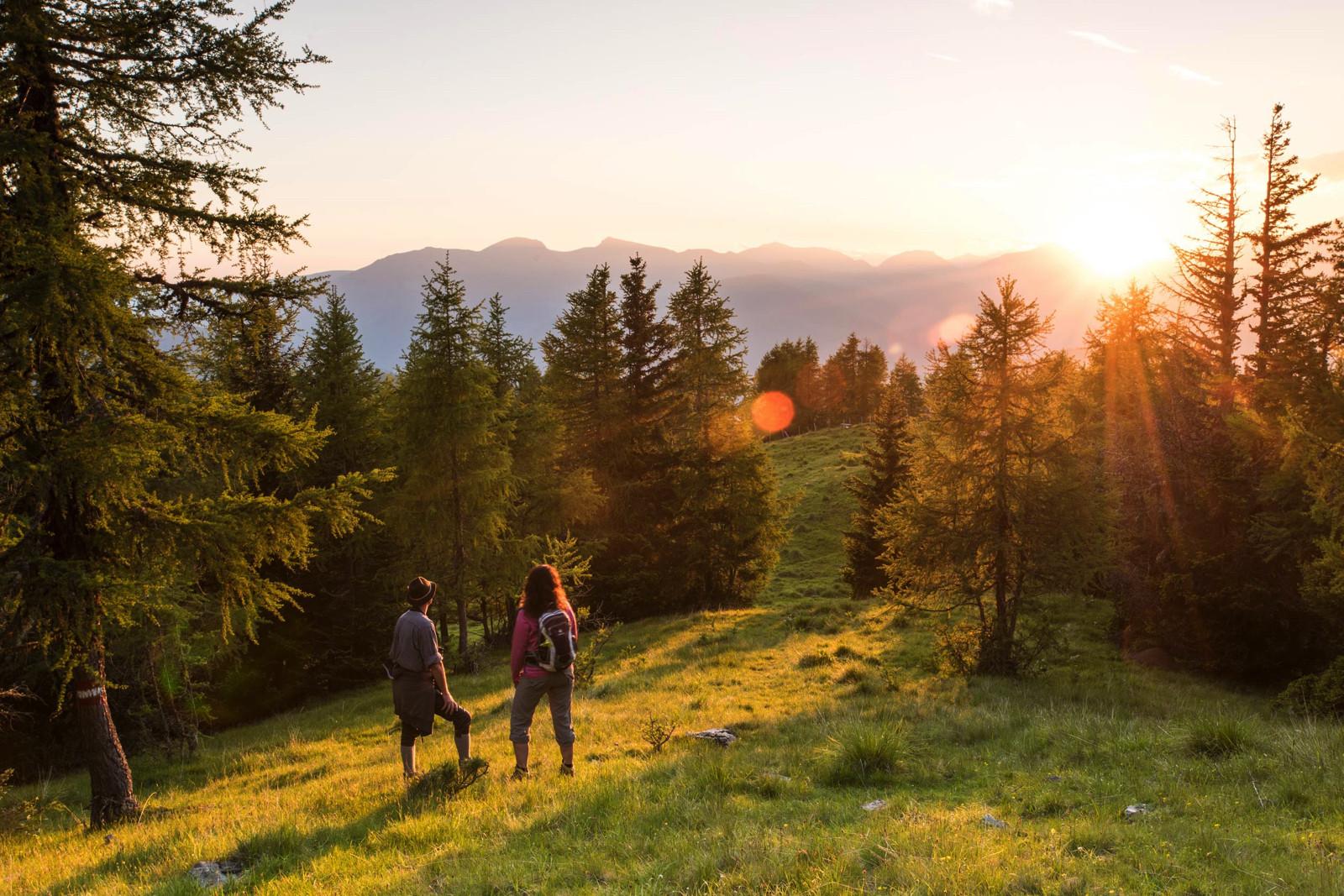 Hiking in the Nockberge
Hochrindl is located in the middle of the Nockberge mountains.
The Nockberge is characterized by its rounded peaks and pristine nature; it is not for nothing that it has been recognized by UNESCO as an exceptional nature reserve.
Hochrindl is an ideal alpine hiking area. 2,400 meters above sea level, hikers will find a nature Eldorado with dense forests, fragrant meadow, grazing cows, fresh air, crystal clear water, cosy mountain huts an breath-taking views of the Carinthian Nockberge mountains.
It is pleasant hiking there from May to October.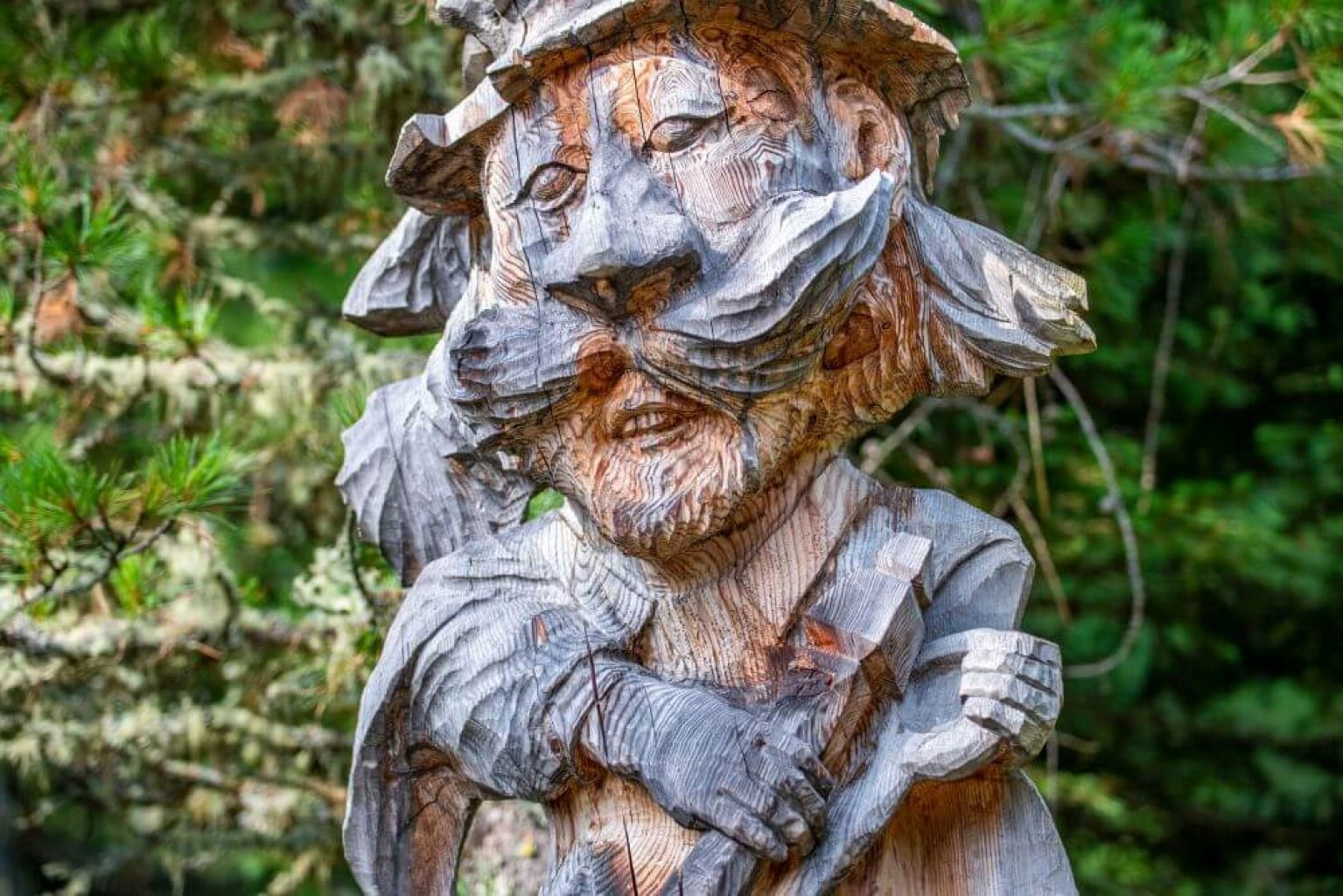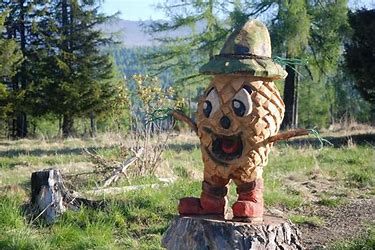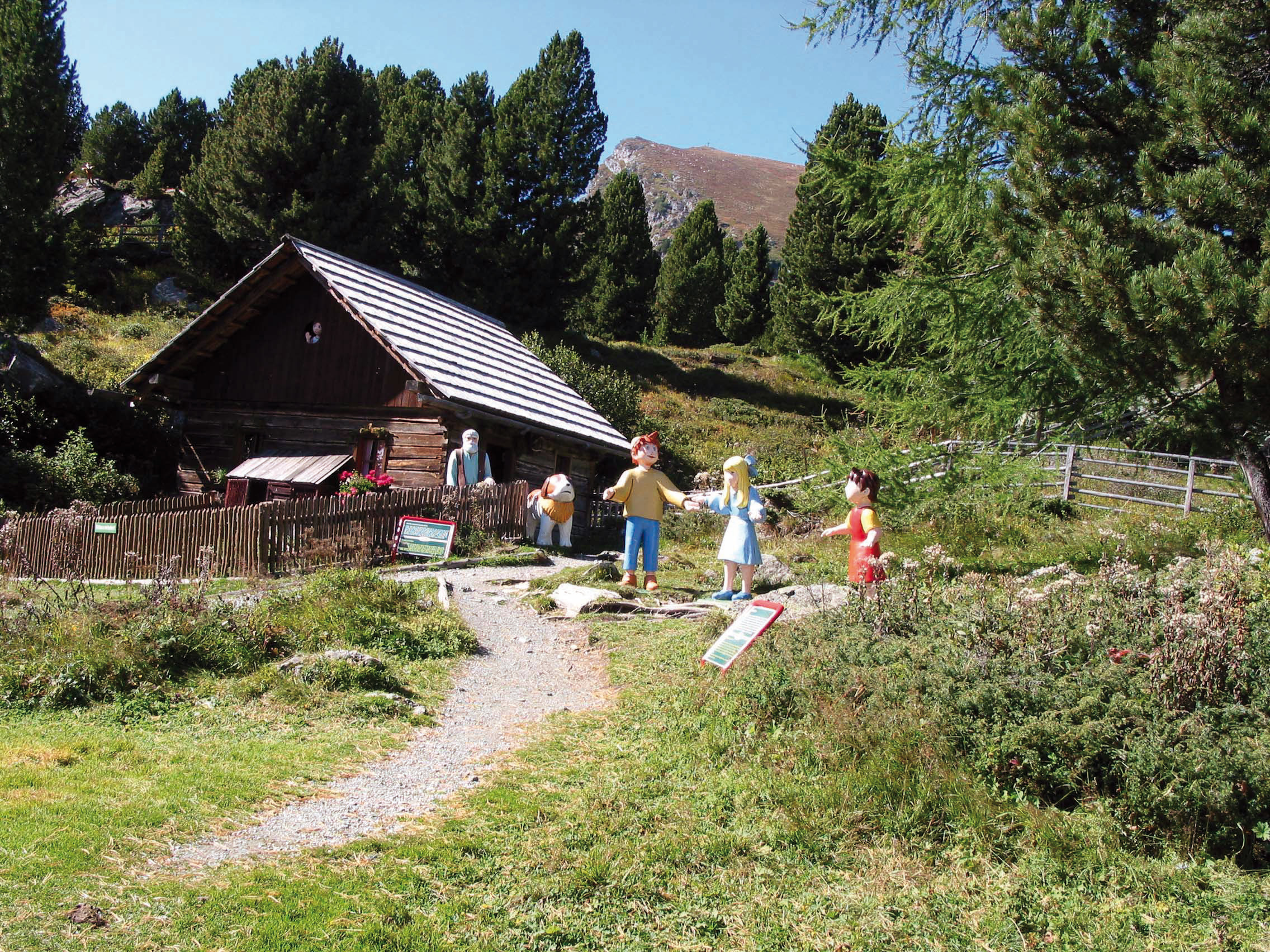 Hiking with children in Hochrindl
The kingdom of King Waldgeist
Experience the fairy tale of King Waldgeist. He fought with his subjects - his nobles, the air spirits, as well as the tree spirits against the evil witch Stumpelbein.
Yes, he fought, but how ...?
With an assignment booklet in hand, go along the child-friendly hiking trail and experience this exciting fairy tale.
Start at the Herzl Hütte, which is within walking distance from our Lodge.
Walking time: approx. 1 hour
Open from mid-May to mid-October
Free with the Kärnten card.
Zirbenzapfi adventure hike
Together with Zirbenzapfi you can enjoy the beautiful landscape on a challenging adventure trail.
Start at the Herzl Hütte, which is within walking distance from our Lodge.
Walking time: approx. 1 hour and 30 minutes (distance approx. 2.2km)
Open from mid-May to mid-October
Free with the Kärnten card.
Zirbenzapfi Erlebnisweg (herzl-huette.at)
HEIDI-Alm on the Falkertberg
The Heidi-alm on Falkert is a theme park for children in the Nockberge at 1,875 meters. It stretches over about 3 hectares, embedded in a rustic pine forest and offers something for everyone.
With more than 100 figures, the story of "HEIDI, the mountains are your world" is told.
Opening times: mid-May to end-October; daily from 10.00 to 17.00
Price without Kärnten Card: € 10.00, with Kärnten Card: free
https://www.heidialm.at/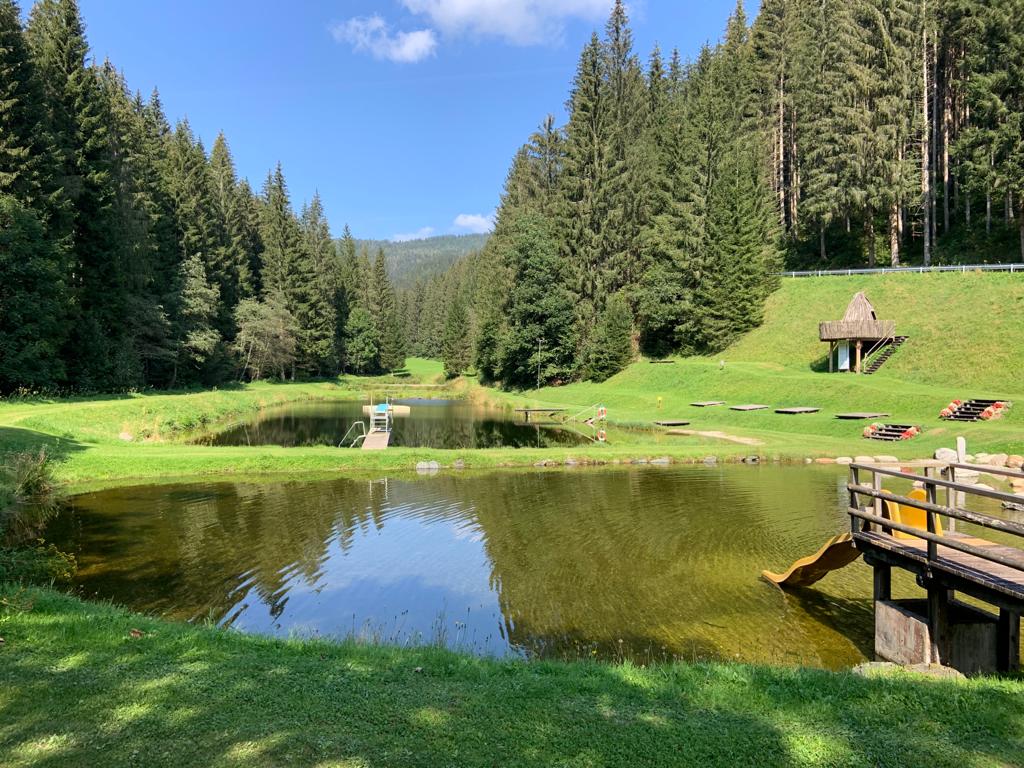 Swimming
Carinthia is also the land of many lakes, of which there are more than 300 in our province.
There are quiet idyllic swimming lakes, but also lakes with swimming beaches where there is fun and action. Carinthia's lakes are known for their very clean water - most are of drinking water quality. But the summer bathing temperatures are also impressive, because a water temperature of 27 degrees isn't unusual.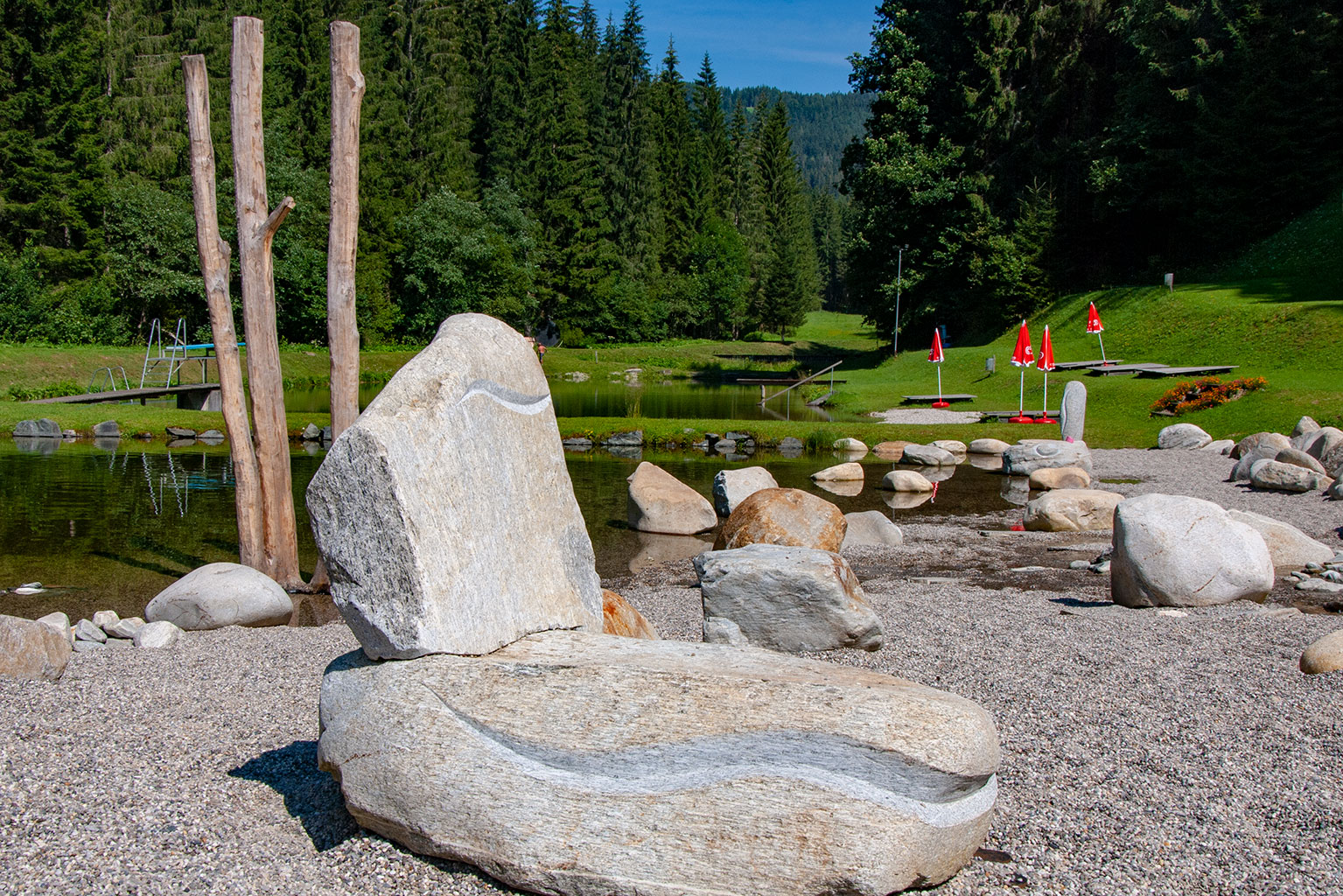 Natural swimming pond in Sirnitz (10 km)
There is a beautiful natural swimming pond in Sirnitz-Frankenberg, about 10 km from our Lodge. This one is our children's favourite.
There is a shallow lake with slide for the younger kids and a deep lake with springboard for the bigger ones. Fancy a snack or a thirst quencher? There's plenty of choice in the on-site bar.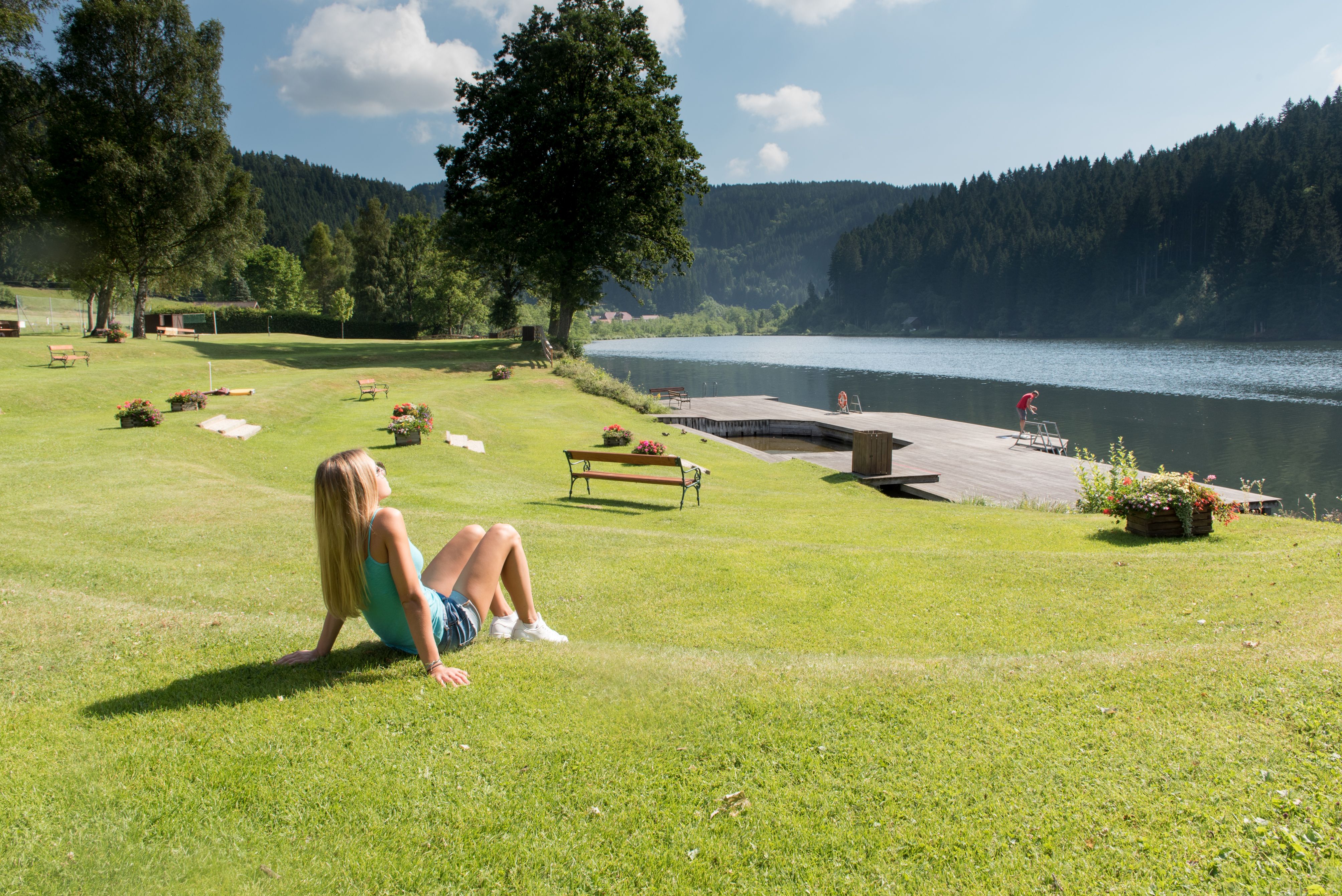 Goggau Lake (21 km)
The idyllic Goggau lake with excellent water quality up to 25 ° C is a relaxation paradise for children and adults.↵ The lake is located in the middle of the Wimitzerberge in the nature reserve Goggausee at an altitude of 770 meters, with completely free shore areas and a newly constructed terraced sunbathing area. This sun terrace is specially designed for the safety of the pool users, so that parents can have eye contact with their children in the water. The Goggau Lake has an area of 10 hectares and is 12 meters deep.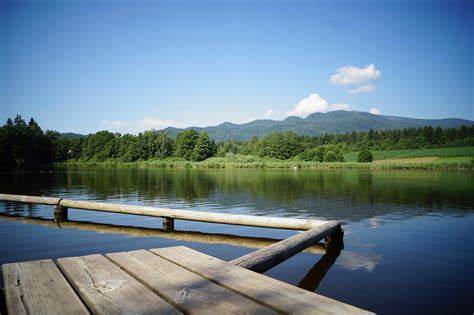 Flatschacher See (21 km)
The idyllic Flatschacher See is just 5 minutes from the town of Feldkirchen and yet it is in the middle of nature. The popular recreational water is only 3.4 meters deep and therefore reaches temperatures up to 27 ° C in the summer.
Not only because of the pleasant water temperatures but also because of the diverse range of facilities, is the public beach a bathing paradise for families! The grass offers space for relaxation. Young swimmers are especially pleased with the large playground and soccer field. Particularly popular are a beautifully constructed hiking trail, a fitness trail and the well-marked hiking trails through the surrounding forests.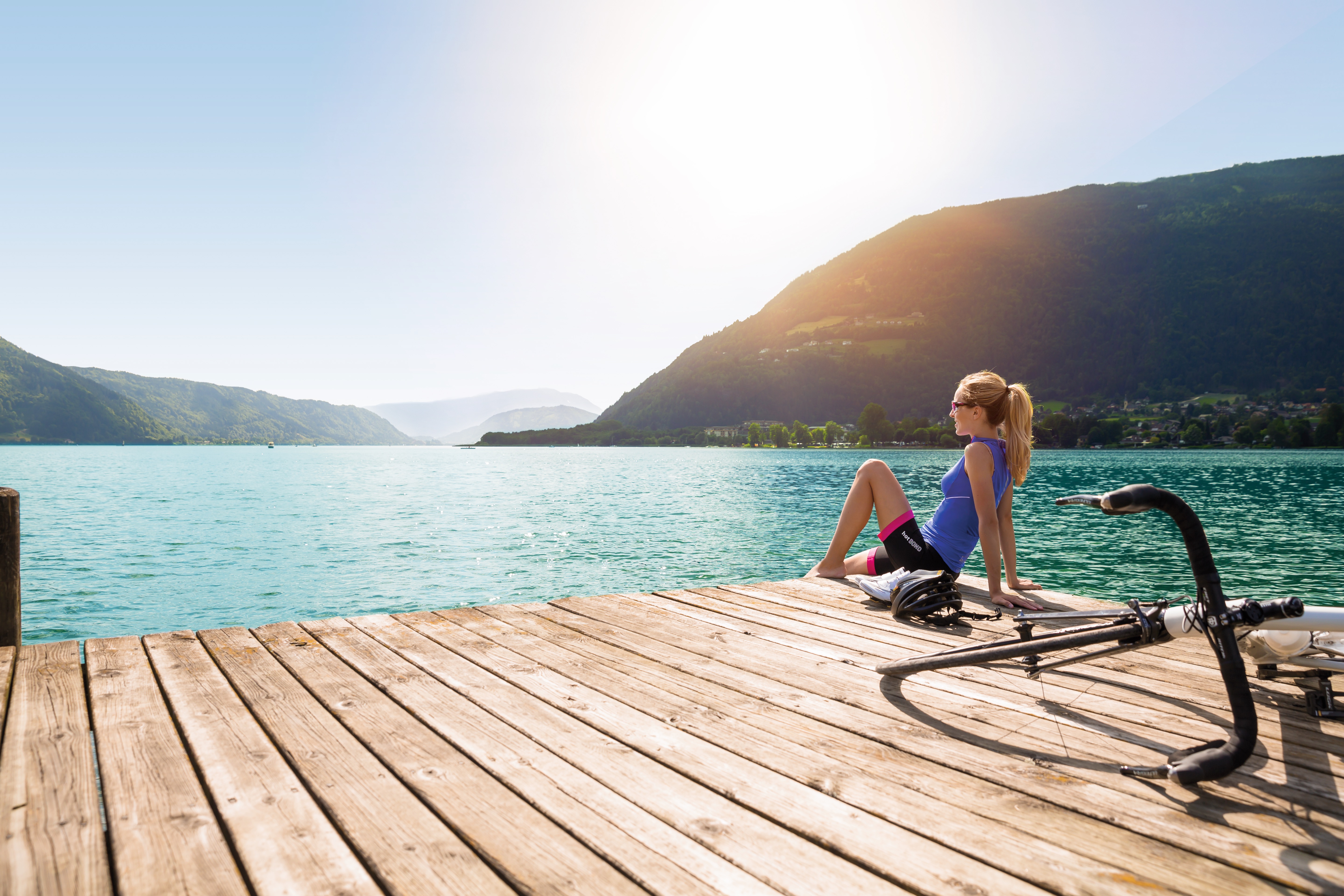 Ossiacher See (35 km)
Lake Ossiach is one of the three largest lakes in Carinthia. Around the lake are a number of villages and the town of Ossiach. All kinds of water sports are possible, with surfing being especially popular.
Sailors and surfers appreciate the wind, which blows over the lake from the nearby Gerlitzen. The multitude of excursions around the lake is almost unbeatable; the monkey park "Affenberg", the castle Landskron with the eagle shows, the Villacher carriage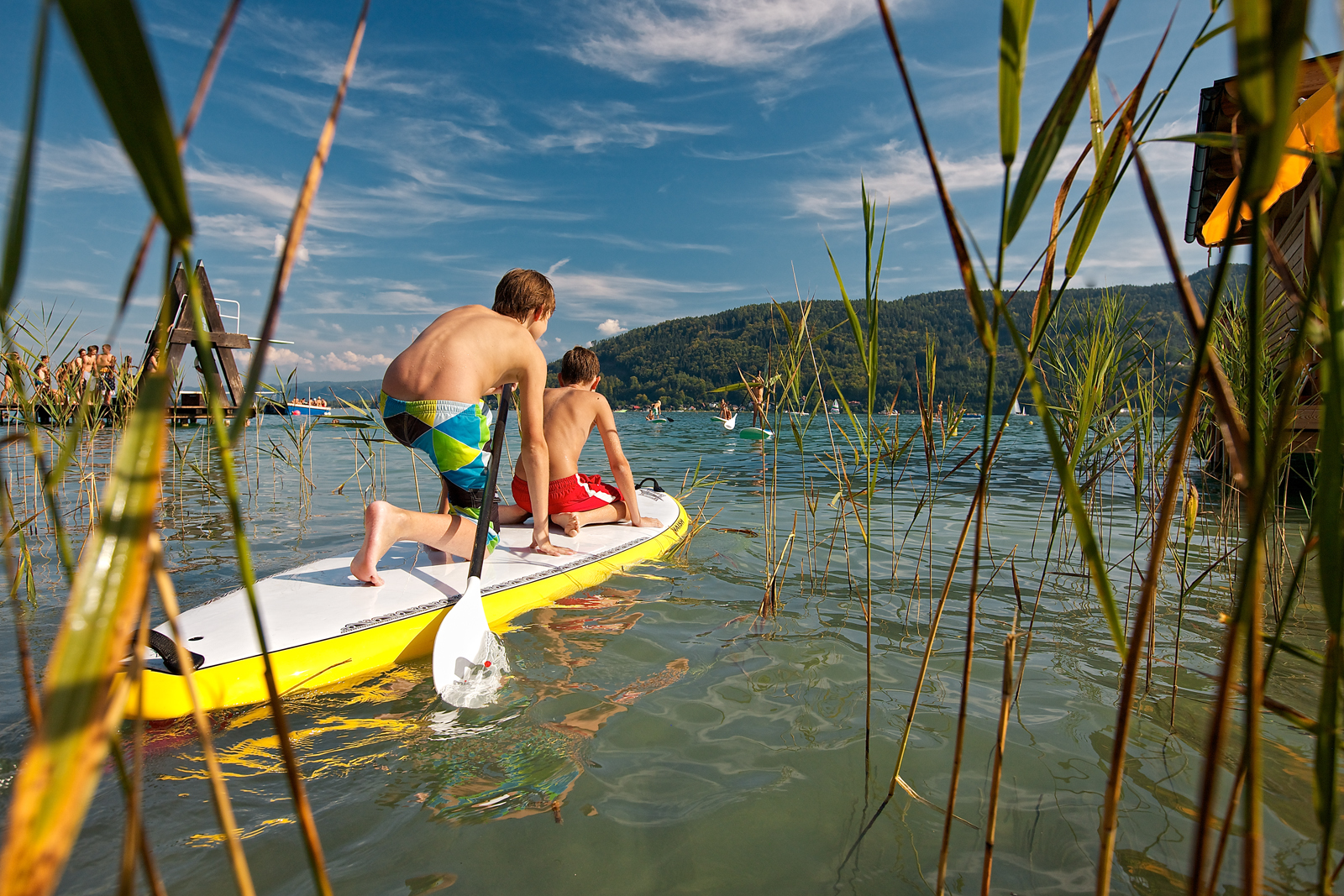 Wörthersee (39 km)
Carinthia's largest lake is Lake Wörthersee. The lake is crystal clear and turquoise in color. On its shores you will find all kinds of wonderful beaches, where various water sports are also possible (Diving, water skiing, parasailing, wakeboarding, sailing with the banana boat and much more).
There are a large number of good restaurants to be found. One tip is to visit the Pyramid Ball. From this viewing platform you have a wonderful view of the Wörthersee.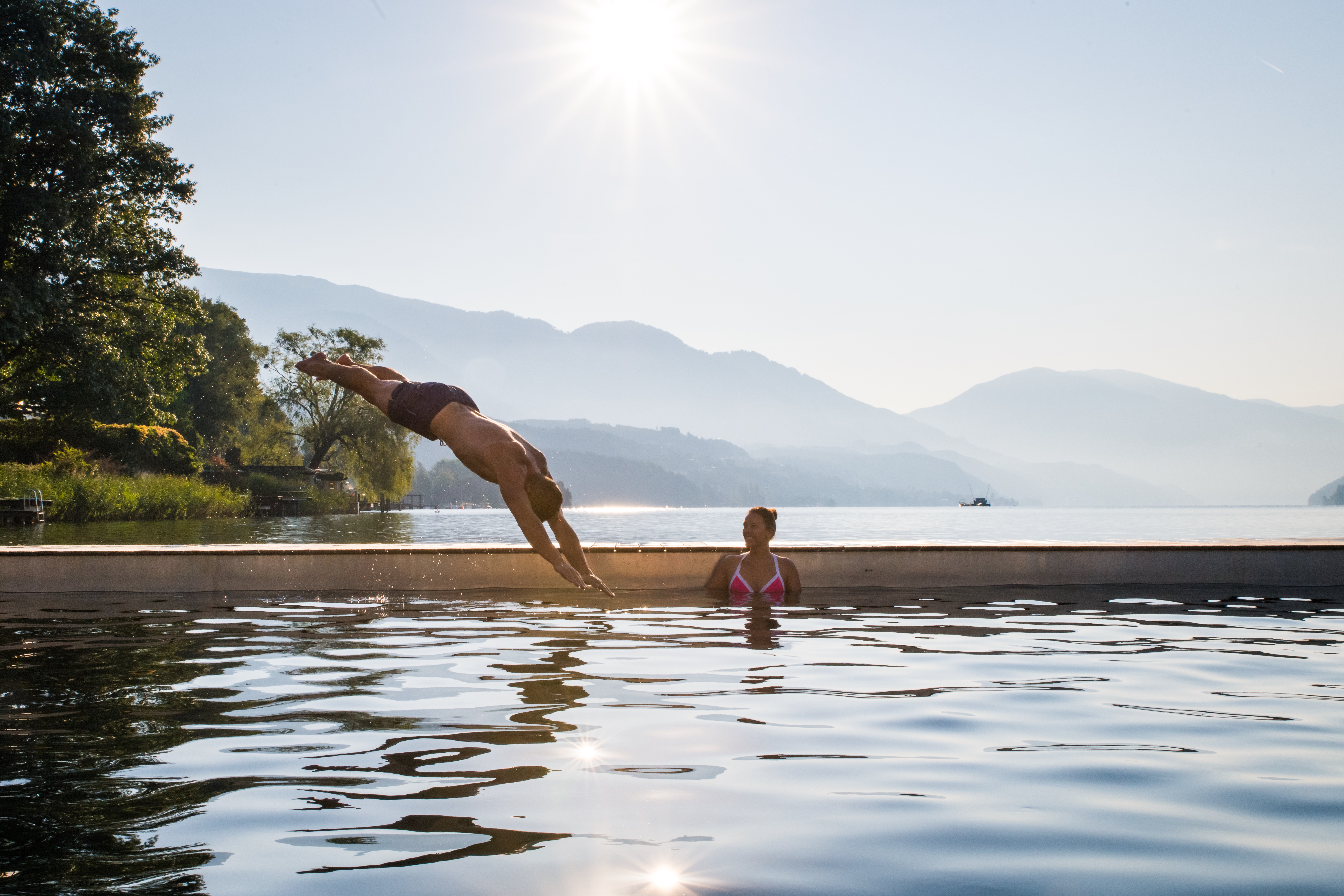 Millstätter See (40 km)
The Millstätter See is considered by many to be one of the most beautiful lakes in Carinthia. The water of the Millstättersee reaches temperatures up to 26 degrees in the summer.
Around the lake are many beautiful villages, such as Döbriach, Millstatt and Seeboden. In summer it is pleasantly busy on the banks and all kinds of water sports are possible. The surroundings are beautiful and form the start of the Biosphere Reserve Nockberge . In the surrounding mountainous landscape there is an extensive network of hiking and cycling trails.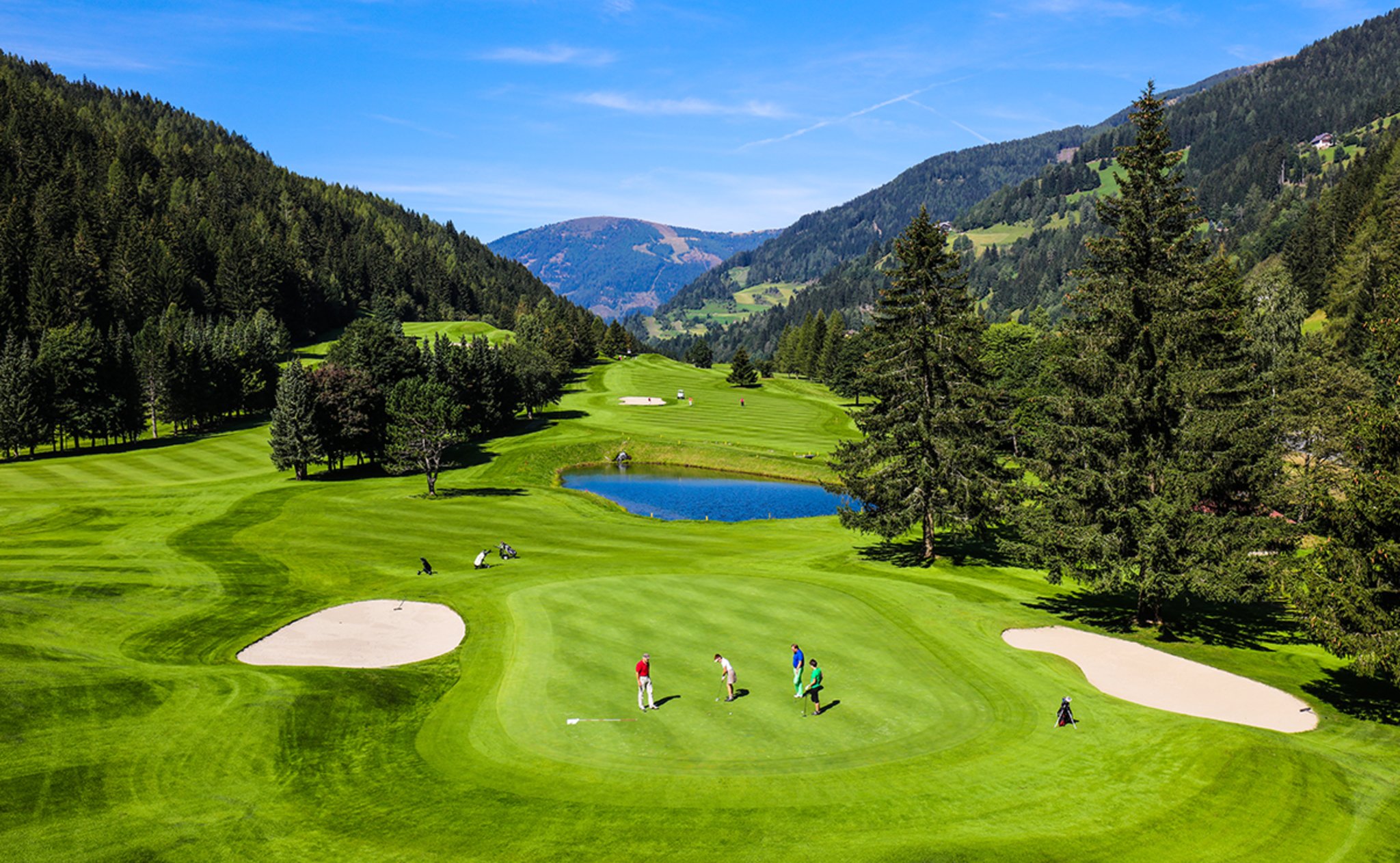 Golf
Carinthia is a paradise for golfers!
There are in total 11 beautiful golf courses that make the heart of every golfer beat faster. Enjoy the sunny fairways and greens in the Nock Mountains or near the beautiful Carinthian lakes.
Bad Kleinkirchheim (15 km)
The nearest golf course to Hochrindl is Carinthia's highest golf course, the Bad Kleinkirchheim golf course. The 18-hole championship course is panoramic in the middle of the Nockberge biosphere reserve.
Moosburg-Pörtschach (35 km)
In the middle of an idyllic nature park lies the 18 + 9 hole Moosburg golf course with indoor driving range. The slightly hilly landscape of the course, with small ponds and ponds, invites you to play unforgettable rounds of golf.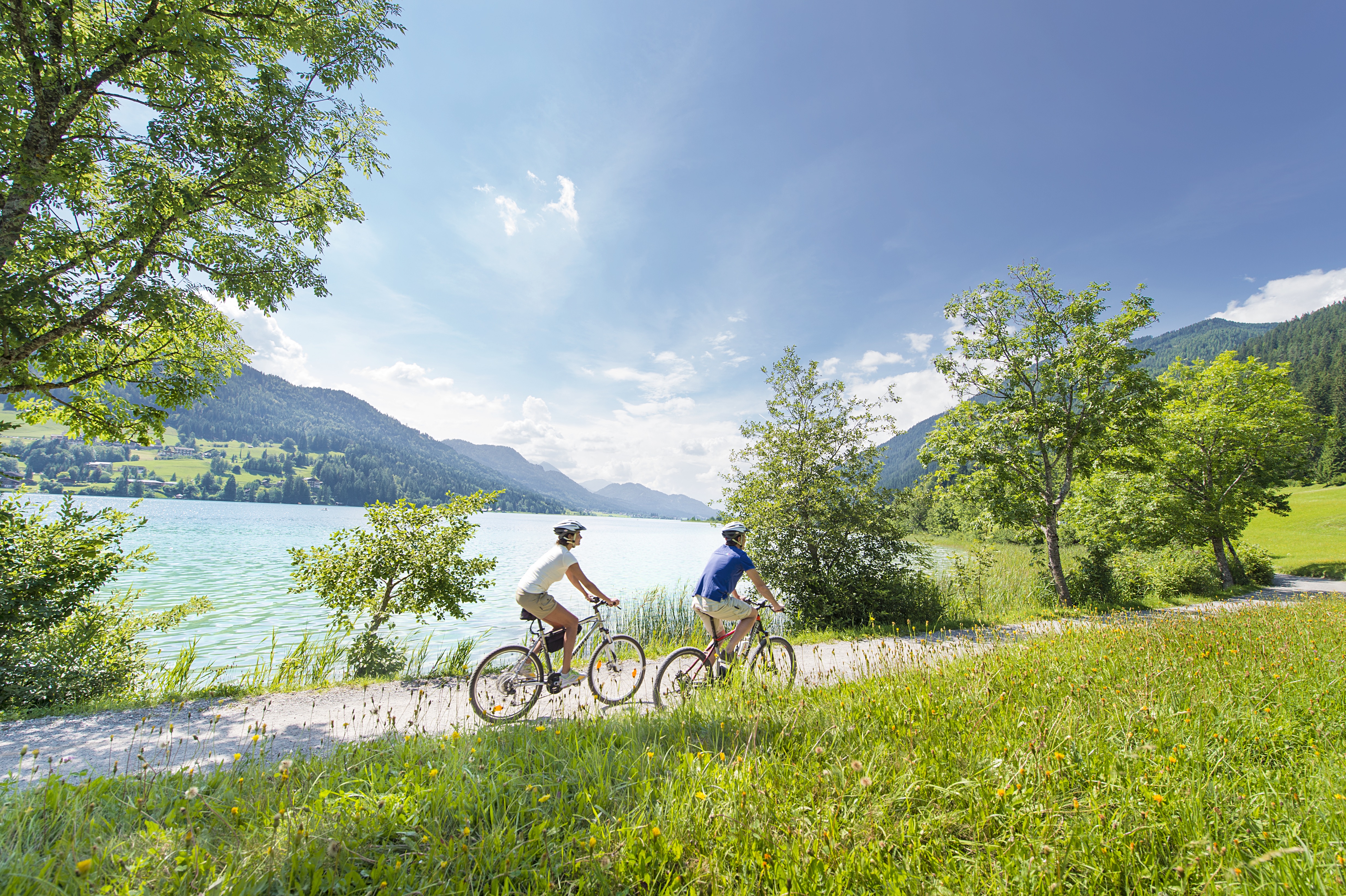 Cycling
The Nockberge region, with its rolling hills, numerous lakes and above-average number of hours of sunshine, is a first-class cycling destination. Thanks to the mild climate on the southern side of the Alps, it is possible to make beautiful cycling trips here from April to October.
Beginners, families, but also experienced cyclists are enthusiastic about the rolling hills and steep mountain passes. The mostly traffic-free routes take you through the beautiful countryside; through the gently rolling hills of the Nockberge and through wide valleys with their warm bathing lakes.
Cycling routes: Cycling near the National Park Nockberge - Overview of all cycling routes | RouteYou
Cycling around the Millstattersee (35 min from Hochrindl): Millstätter See Radweg - Welcome to Carinthia (karinthie.nl)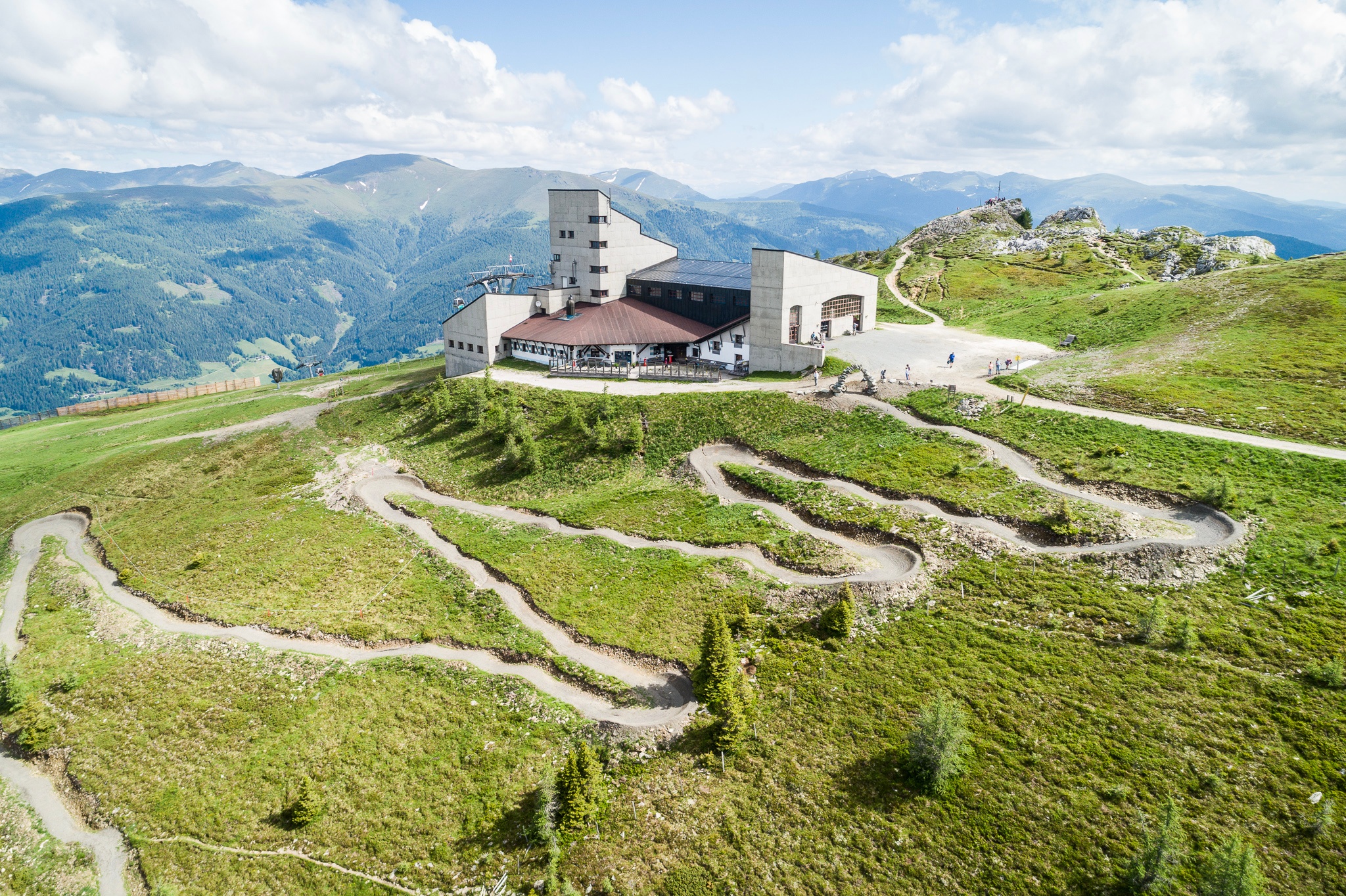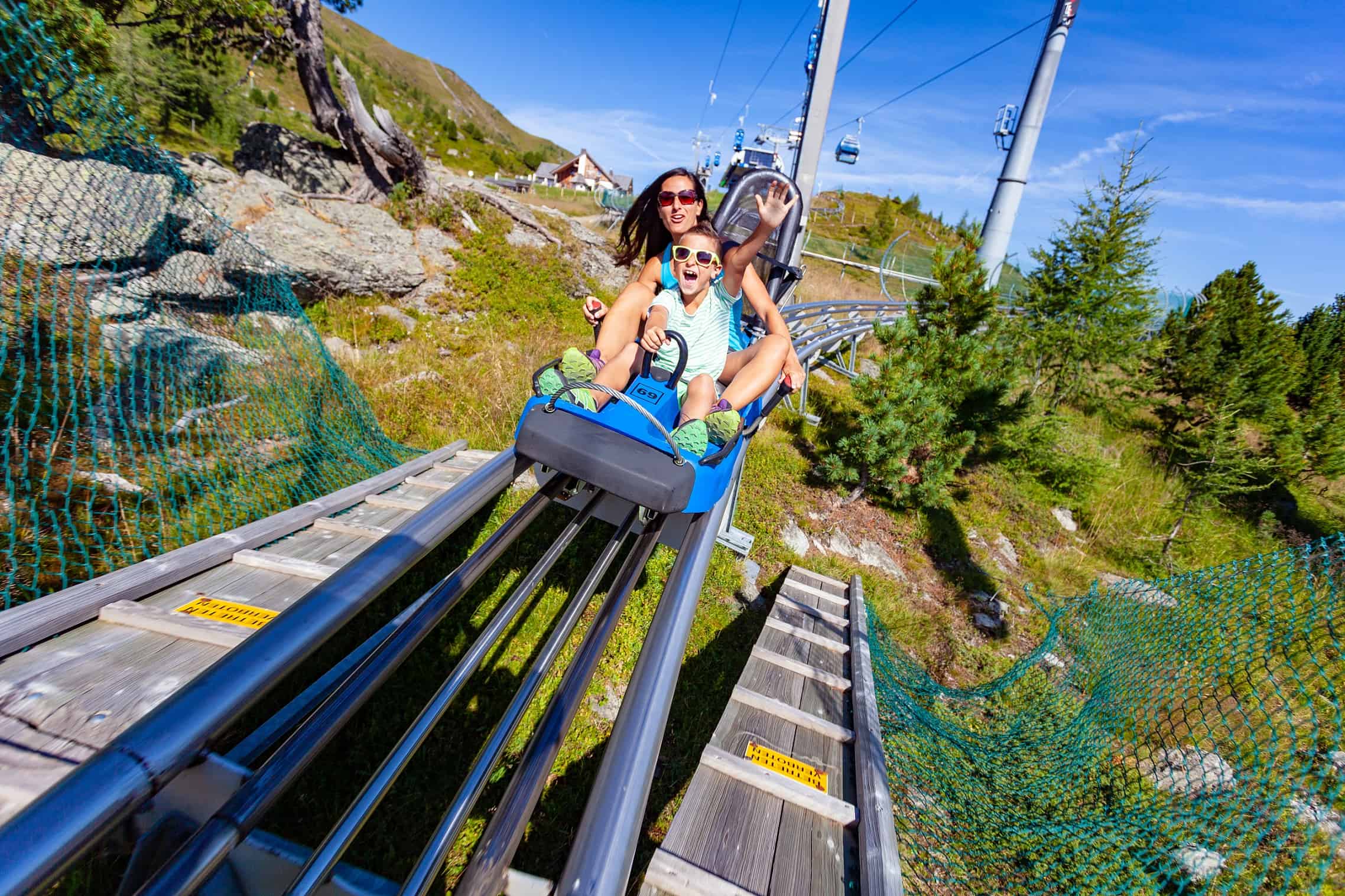 Toboggan run in Turracher Höhe
The alpine roller coaster "Nocky Flitzer" is a hit for young and old: a toboggan run, 1.6km long, where you spectacularly and safely whizz down into the valley, in both winter and summer.
You start from the mountain station Panoramabahn (2,000 meters altitude) and slide down the Nocky Flitzer (1,763 meters). https://www.turracherhoehe.at/de/winter/nockyflitzer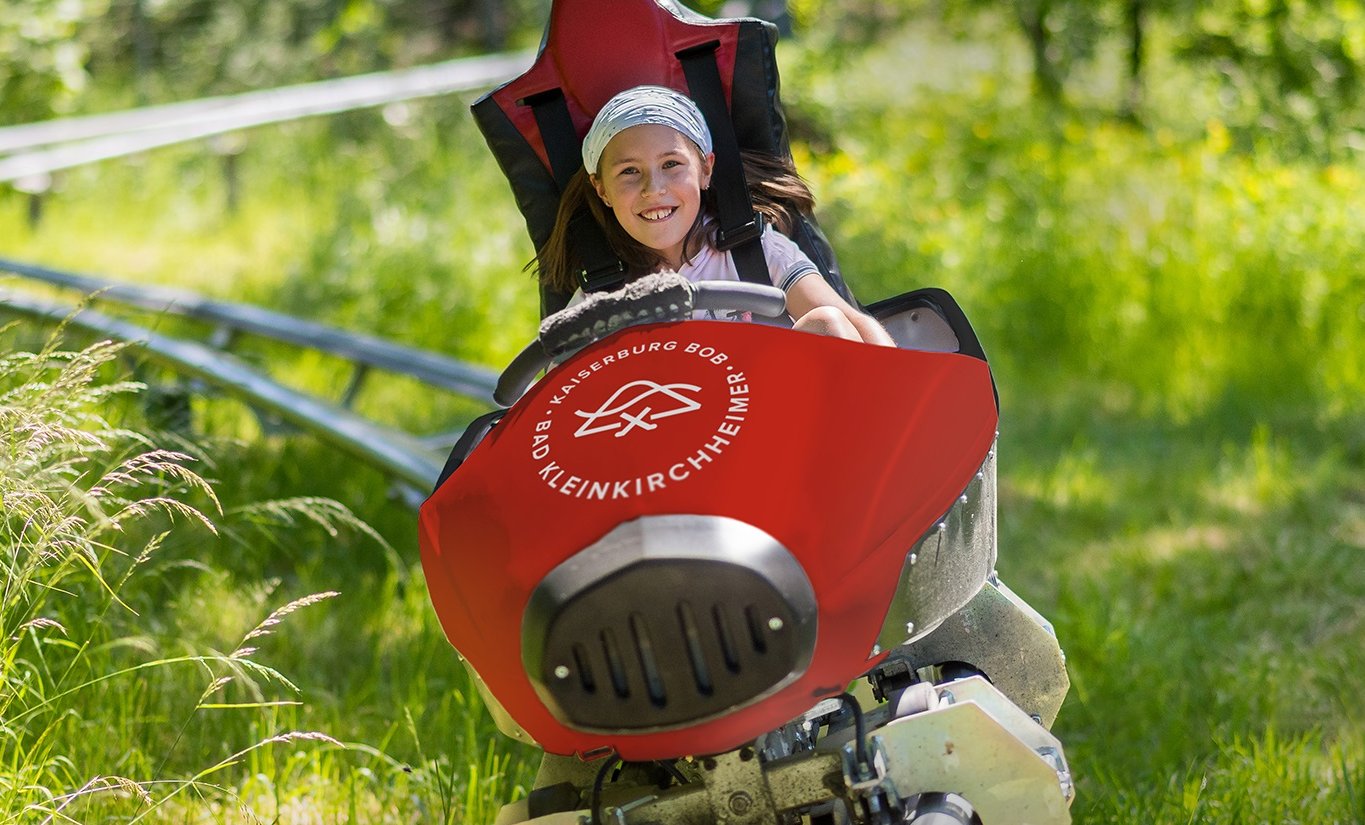 Kaiserburg Bob - Carinthia's first roller coaster.
Rollercoaster feeling with the best view of Bad Kleinkirchheim
The Kaiserburg Bob is open in summer and winter and provides fun for the whole family.
The two-seater bobswing winds up and down through 26 bends over a length of 1.4 km.
Children between 4 to 10 must be accompanied by someone from at least 15 years old.
Children older than 10 and with a height of 1.30 m may ride alone in the bob.
https://www.badkleinkirchheim.com/en/cable-cars-summer/activities/kaiserburg-bob/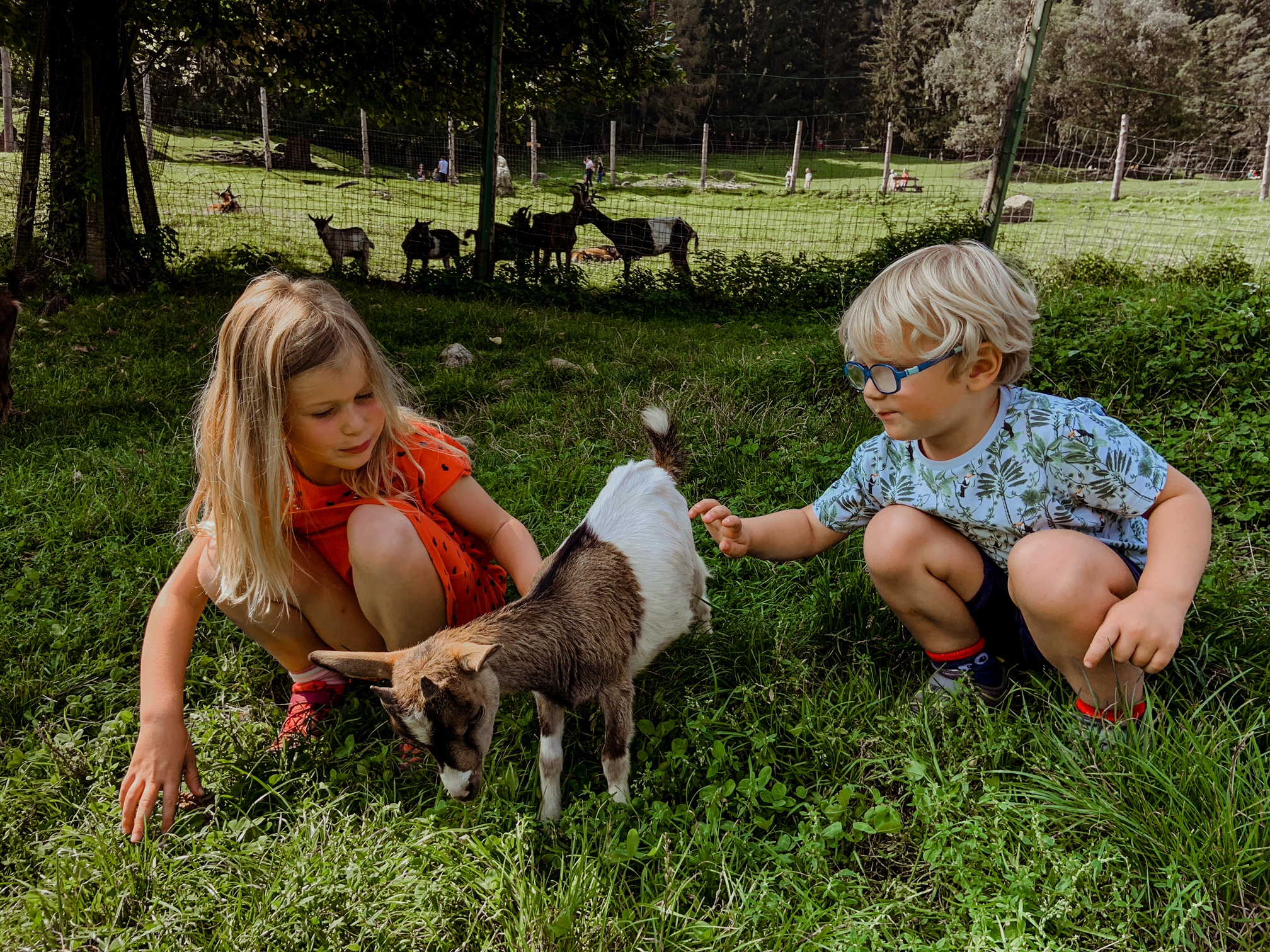 Feld am See wildlife park
Here you can not only enjoy a wonderful view, but also meet more than 30 different wild animals directly and safely. In the 11-hectare wildlife park, the animals are provided with their most natural habitat.
It is very pleasant walking through the park. Be sure to bring a baby backpack for when your child is tired. Or a sporty parent who pushes the buggy.
Children (and you) like to rest in the playgrounds.
Distance from the Lodge: 30 minutes
Open from mid-May to October
Free with the Kärnten Card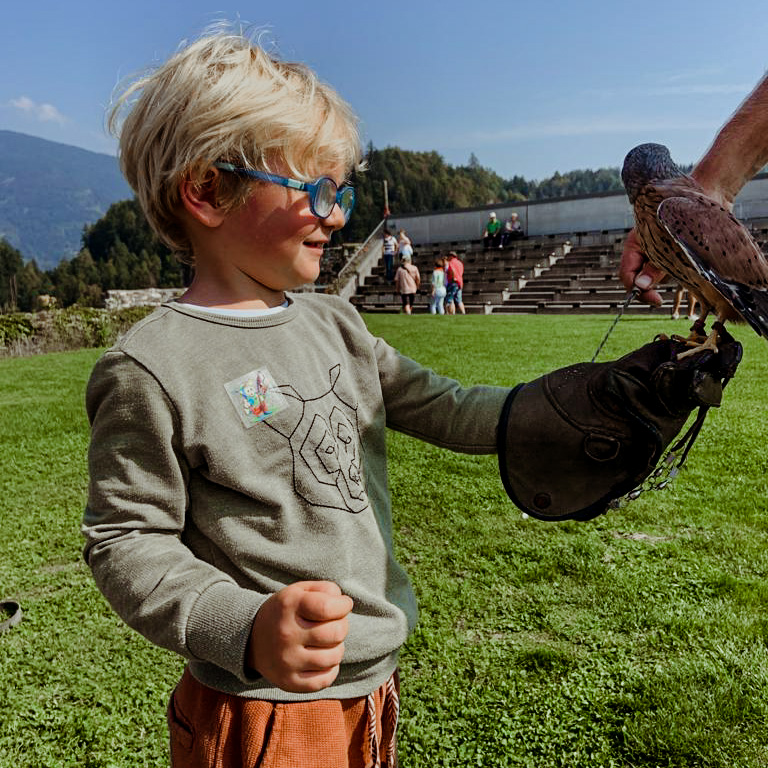 The Adler Arena in Burglandskron
There is a wide variety of birds of prey, such as falcons, eagles and owls, which put on a wonderful show. The trainers give explanations while the birds of prey fly just above your head.
Landskron Castle is an old castle on top of a mountain and is a perfect location, with its large open space. Although it is a short (15min) walk uphill to get there.
Many of the birds live in semi-freedom. This means that sometimes they just stay away for a few weeks to be in the forest.
After the show, you can have your picture taken with one of the birds on your arm for a voluntary fee.
This activity can be combined with the Monkey Mountain 'Affenberg' and/or a city trip to Villach (10min. drive).
Distance from the Lodge: 50 minutes
Open from mid-May to October
Free with the Kärnten Card.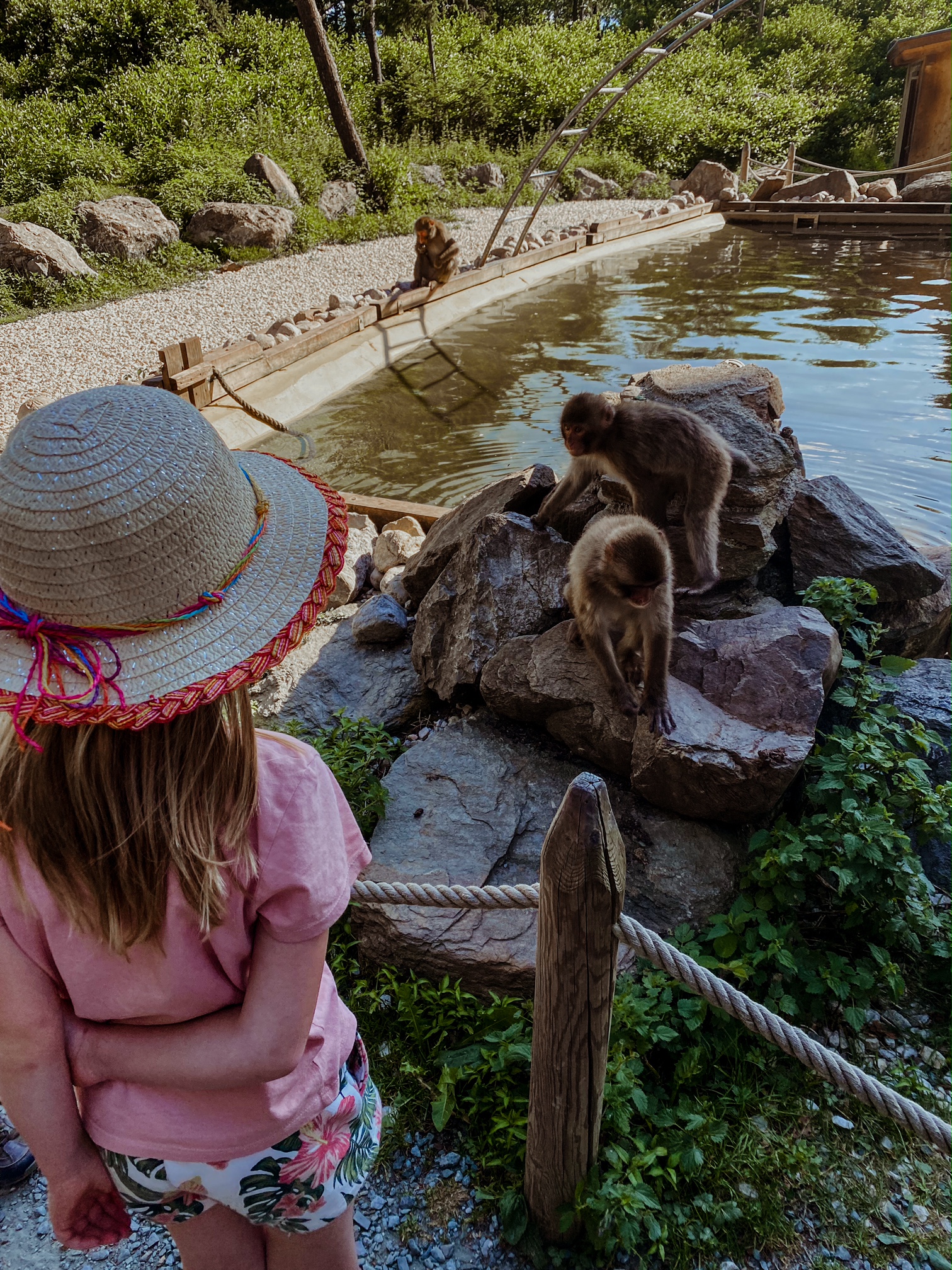 Affenberg
A visit to the Affenberg is only possible as part of a guided tour. Standard visits are offered regularly. Depending on the season, every hour or every half hour. A visit lasts 45 minutes.
The macaques live as if they were in the wild and they are not trained or pets, they do not want to be touched. Visits possible with pushchair.
Distance from the Lodge: 50 minutes
Open from early April to October
Free with the Kärnten card.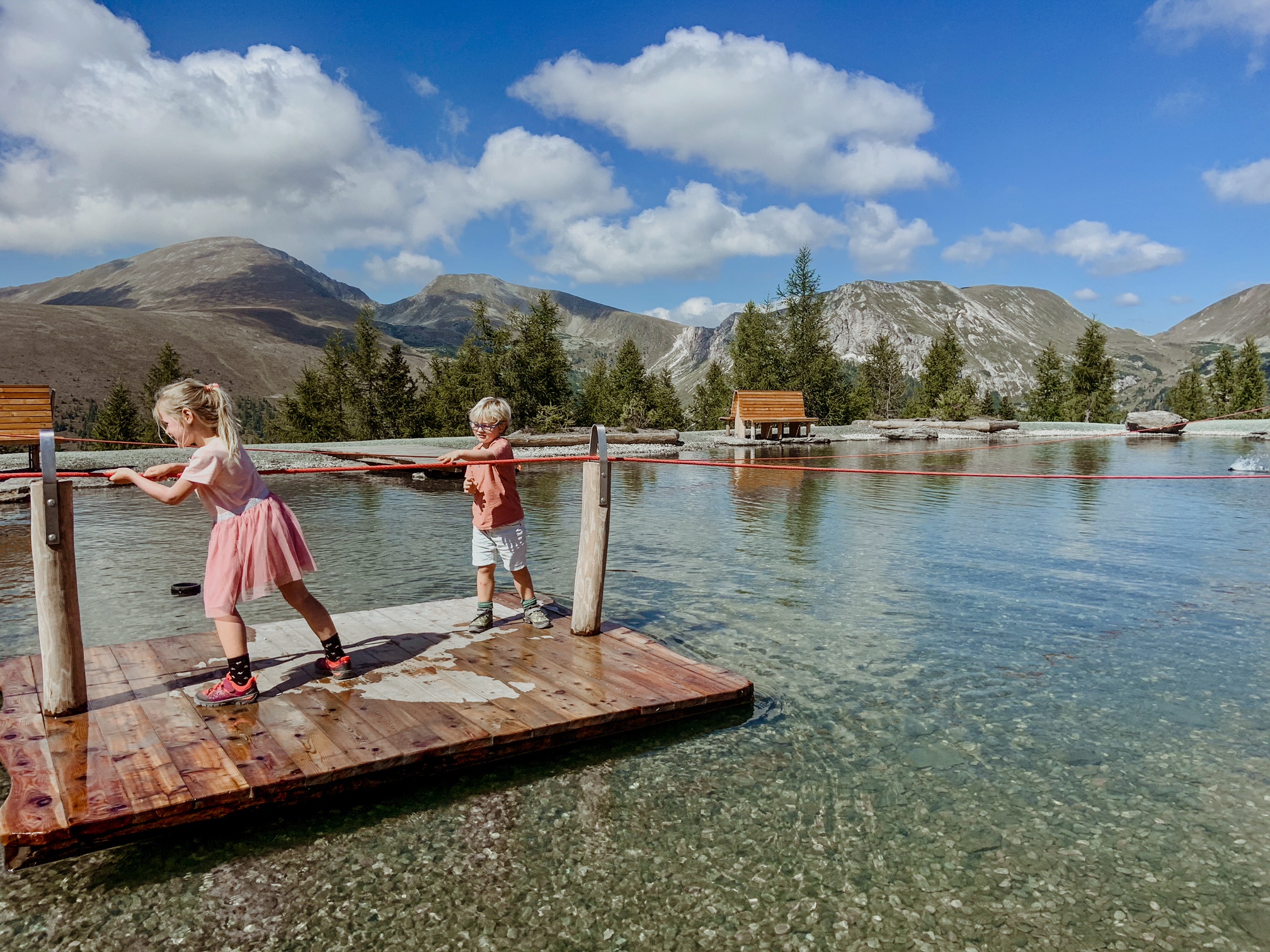 Aktivpark - Bad Kleinkirchheimer Bergbahnen
Our area is so diverse; action, adventure, quiet, relaxation, child and family friendly... we have it all.
You can experience this on different levels. At Bad Kleinkirchheim Bergbahnen, for example, there is a fun activity park at an altitude of 3000m², right at the top station of the Biosphere Park Railway Brunnach. Here you can exercise and relax before or after your hiking adventure.
There are rope ferries, a water labyrinth, balancing beams, hanging swings, lovely deckchairs... and much more.
Wonderful, challenging hikes start here. But also for those who want to take it a bit easier, there is a nice selection. Like the Mountain Yoga Trail.
Distance from the Lodge: 20 minutes
Open from May to November
Free with the Kärnten card on the lift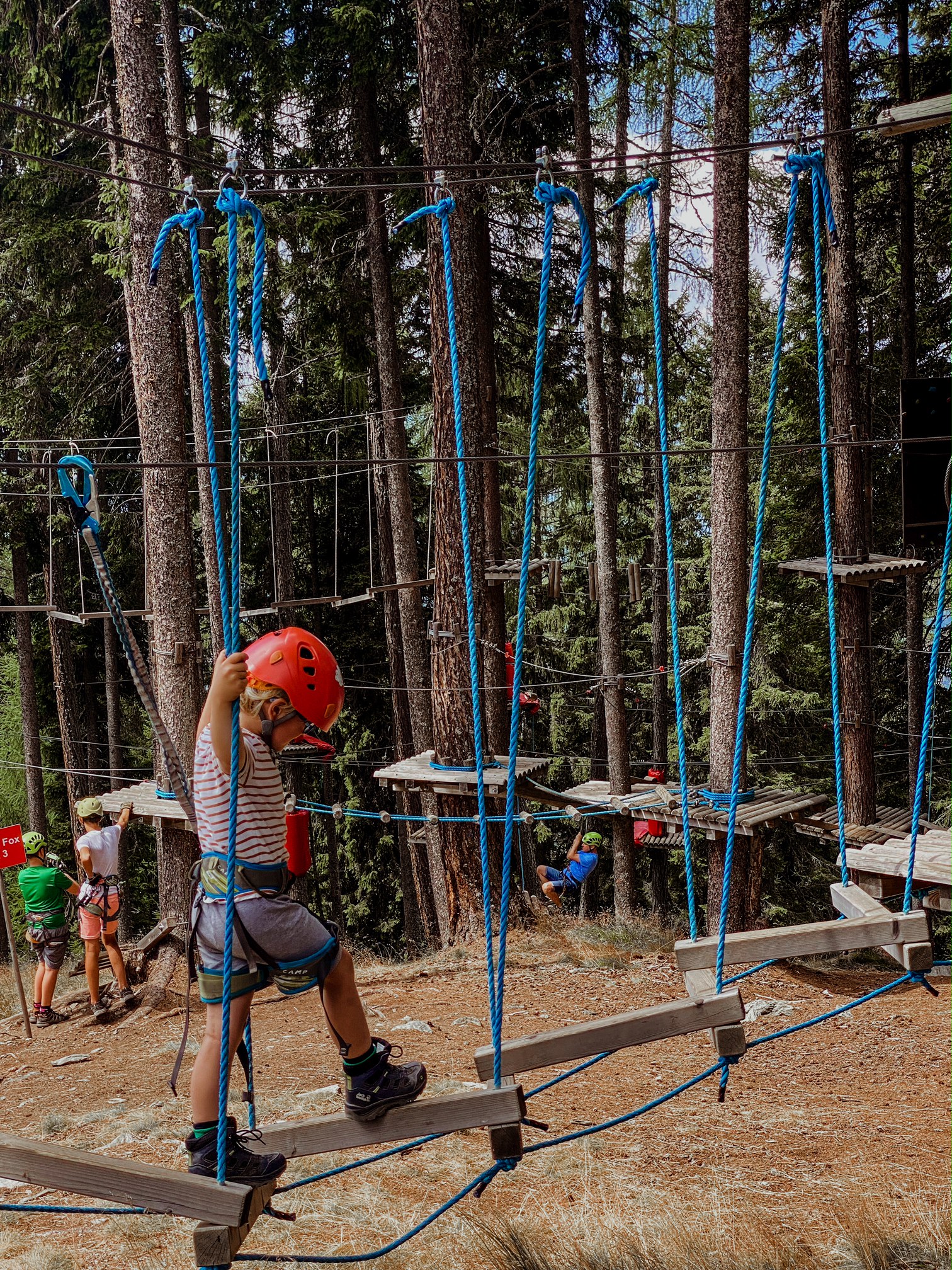 Adventure park Gerlitzen
Gerlitzen does not only have a beautiful view, but you can also have a lot of fun with the whole family.
First you take the cable car from Lake Ossiach to the middle station of Gerlitzen Alpe. There you have several activities.
With the mini-electro Pistenflitzer mountain karts you can drive down the secured ski slope - the ultimate driving pleasure for all ages. Or down the slope with inflatable tyres, this new summer tubing offers first-class sliding fun. There is also a bike course and bungee trampoline (all payable separately).
In the adjoining adventure park, more than 160 exciting forest stations with different levels of difficulty are waiting for you to be discovered. Tree stairs, suspension bridges, fun slides and climbing opportunities are distributed between heights of one and 18 metres. Due to the different levels of difficulty, there is something for beginners (from 3 years of age) as well as for the more advanced.
Distance from the Lodge: 50 minutes
Open from mid-June to mid-September
Free with the Kärnten card on the lift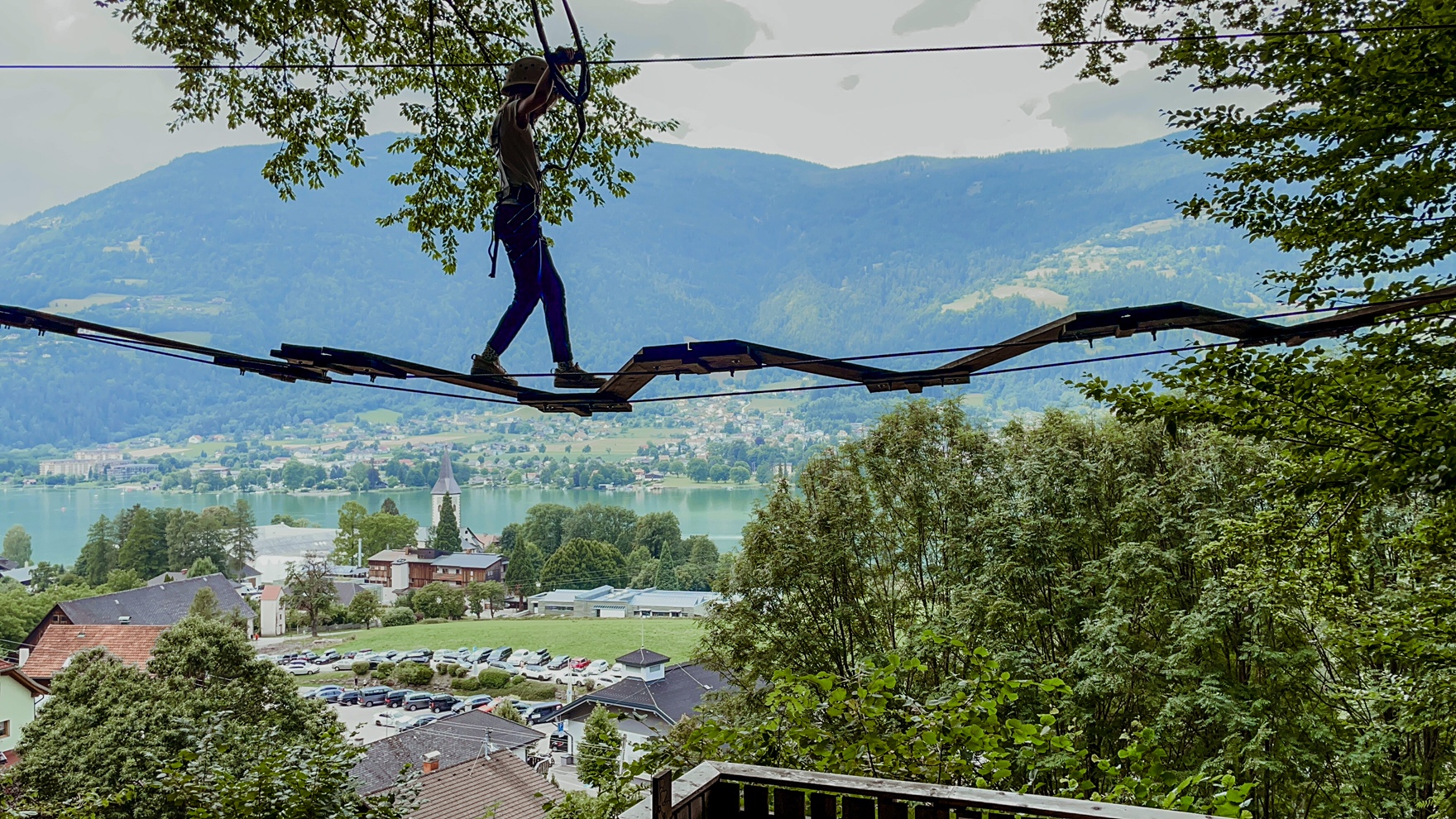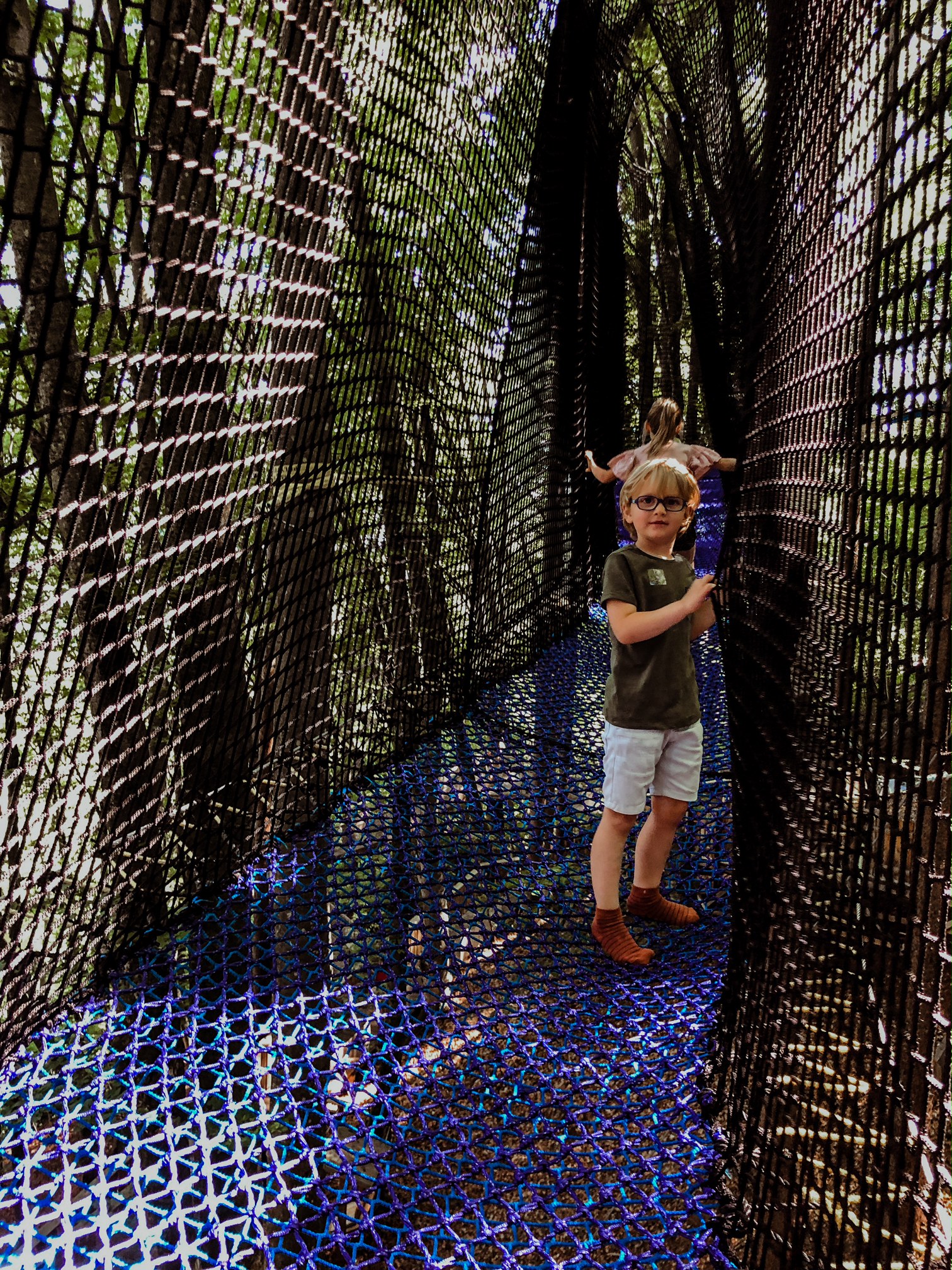 Kletterwald Ossiach, Familywald Ossiach and Treenets
These three activities are all in the same place.
Kletterwald
Kletterwald. From the age of 6, you can climb an extensive high ropes course here. There are different heights and different levels. Fun for everyone!
At your own pace, you can climb for three hours with the whole family. And back down with the fly-line.
Familywald
Familywald. A very fun, interactive trail for all ages. Tree top trail, tree houses, adventure trail with suspension bridges directly into the trees, spectacular tree platforms, net tunnels, various play stations and much more. After this walk, be sure to continue to the treenets, a very fun, unique activity. And then back down again with the fly-line.
Treenets
Treenets. After the walk in the Familywald, you can go on the Treenets from the age of 3. Nets safely stretched in trees. Climbing, playing, sliding together with the children... this new activity is definitely worth it! Tip: Wear long trousers or exciting shorts, otherwise your buttocks will be blood red after sliding down the slides.
Distance from the Lodge: 40 minutes
Open from end of March until November
Familywald and treenets are free with the Kärnten Card,
Kletterwald is with discount upon presentation of your Kärnten card. Fly-line is 5EUR extra.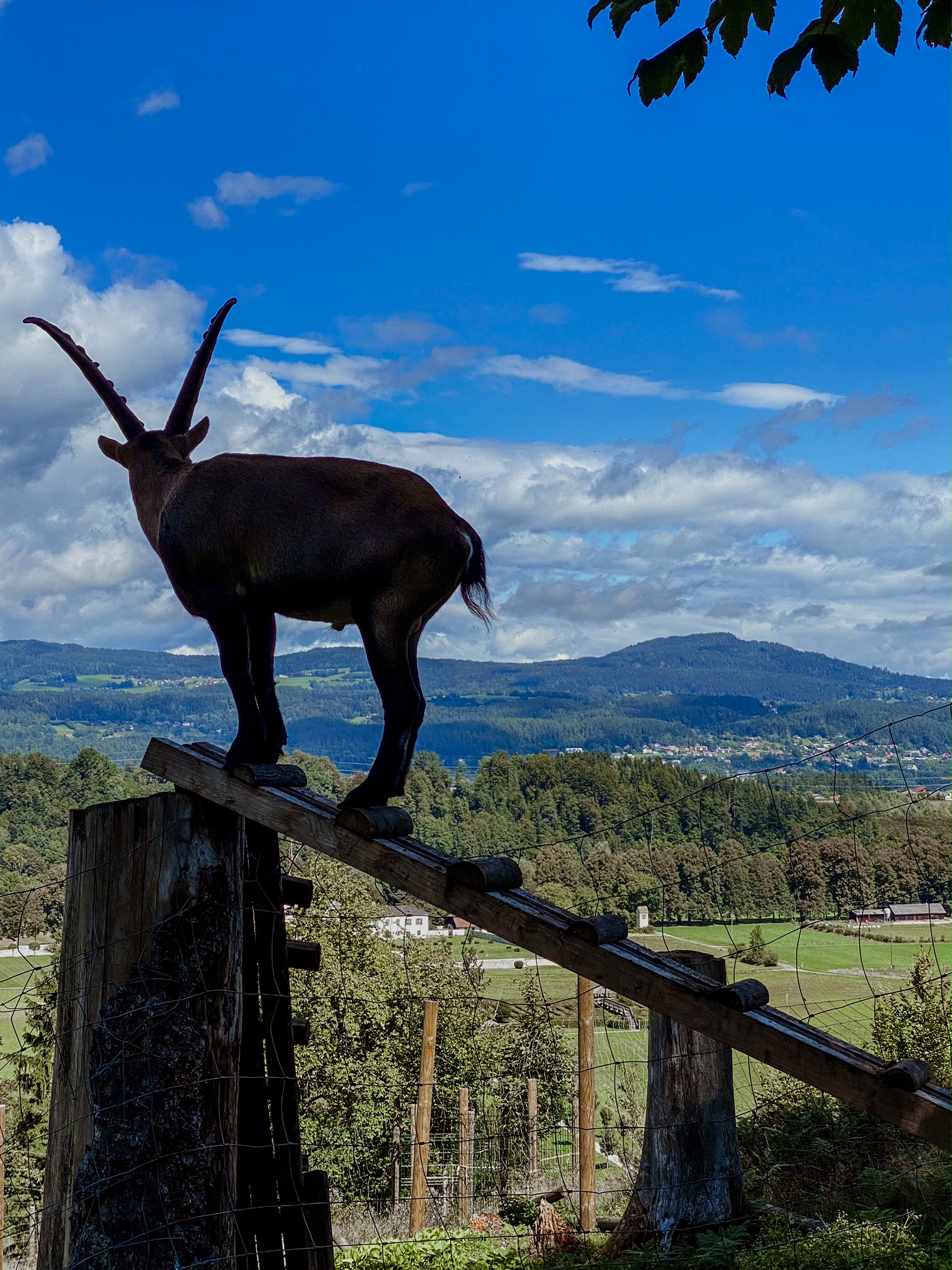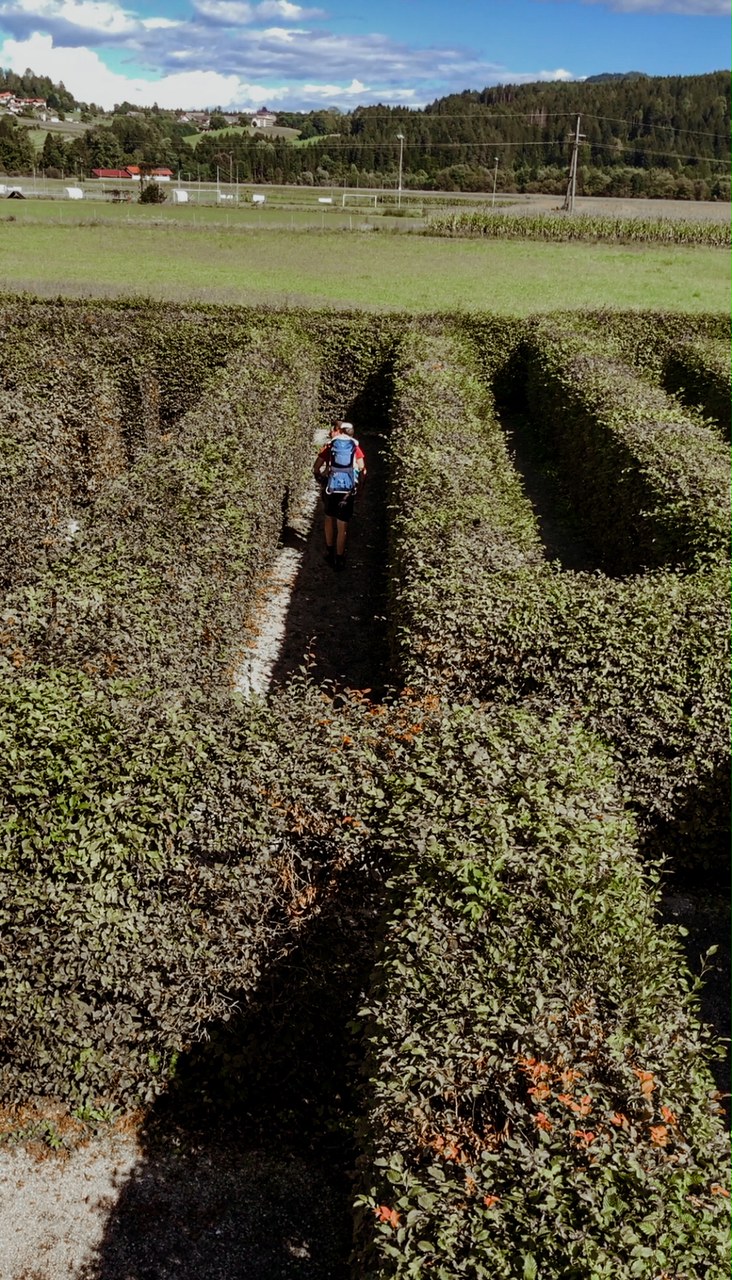 Animalpark and Labyrinth Rosegg
You can enjoy a beautiful walk, also feasible with a pram, around the historic Burgberg.
More than 300 animals live here, which sometimes suddenly appear next to you, such as the ibex, deer and peacocks. You have large animals like the bison and smaller ones in the petting zoo.
After the walk, you can eat something in the bistro, while the children have fun on the outdoor playground.
Combineer dit zeker met het labyrinth aan de overkant van de straat. Een hele leuke activiteit met het hele gezin. Laat ons zeker weten als het jou gelukt is om de uitgang te vinden!
Distance from the Lodge: 60 minutes
Rosegg Zoo
Open from April to November
Free with Kärnten Card
Rosegg Labyrinth Open from May to October
Discount on presentation of your Kärnten Card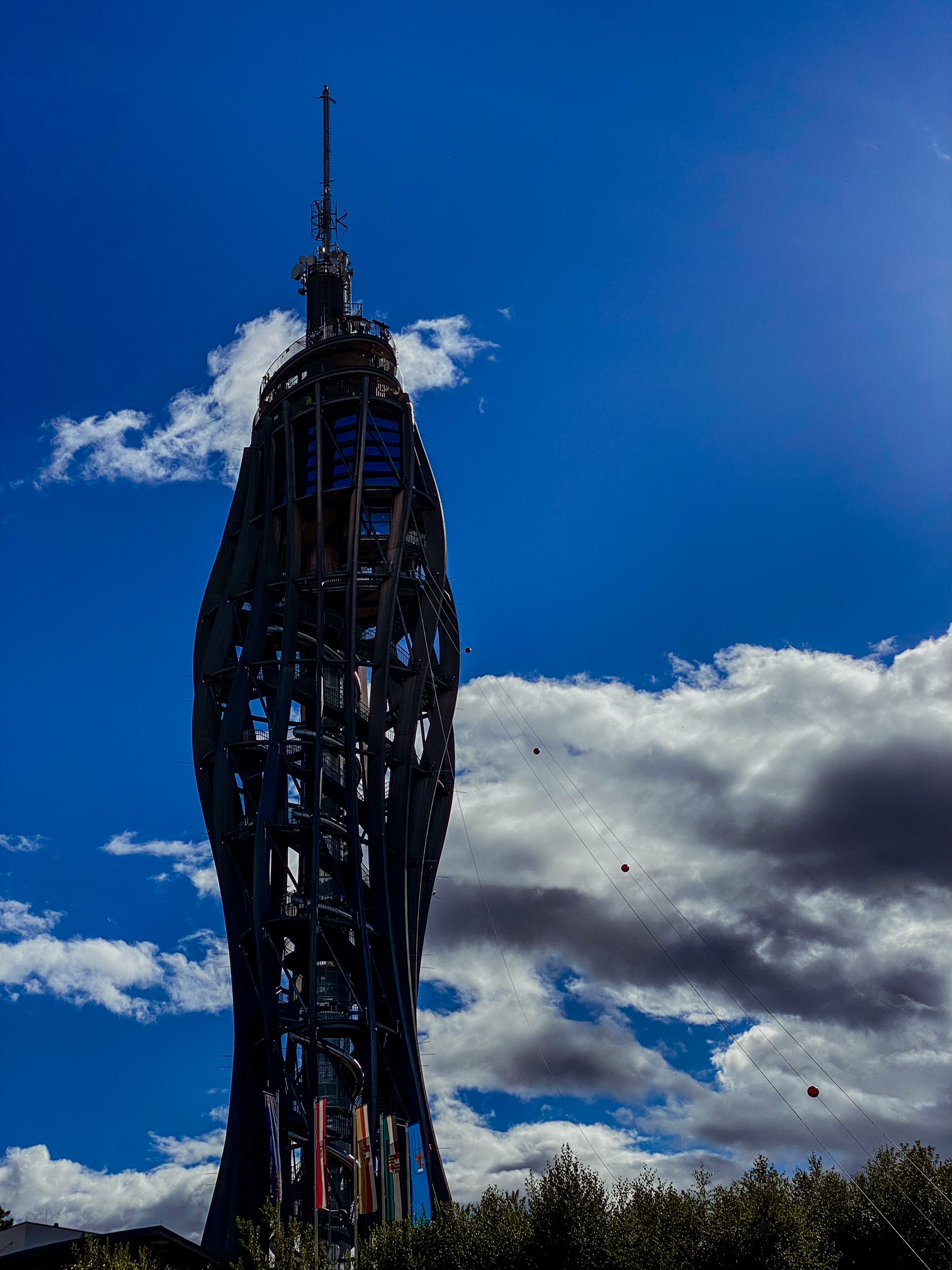 Pyramidenkogel
Fancy a spectacular view? Then we recommend the summit of the Pyramidenkogel. It lies at 851 m above sea level. With a height of 100m, it is the highest wooden lookout tower in the world.
441 steps or a lift ride bring you to a platform where you can enjoy a 360 degree panoramic view of Carinthia's beautiful lake and mountain scenery.
You can go down in four ways; by lift, by stairs, by cable car or by Europe's highest closed slide.
Downstairs you can have something to eat or drink, while the children play on the spacious playground, before you end the day and come back to our Lodge.
We have combined this watchtower with the animal park Rosegg and the maze.
Distance from the Lodge: 60 minutes
Open all year round
Free with Kärnten card, extra charge for slide or cable car.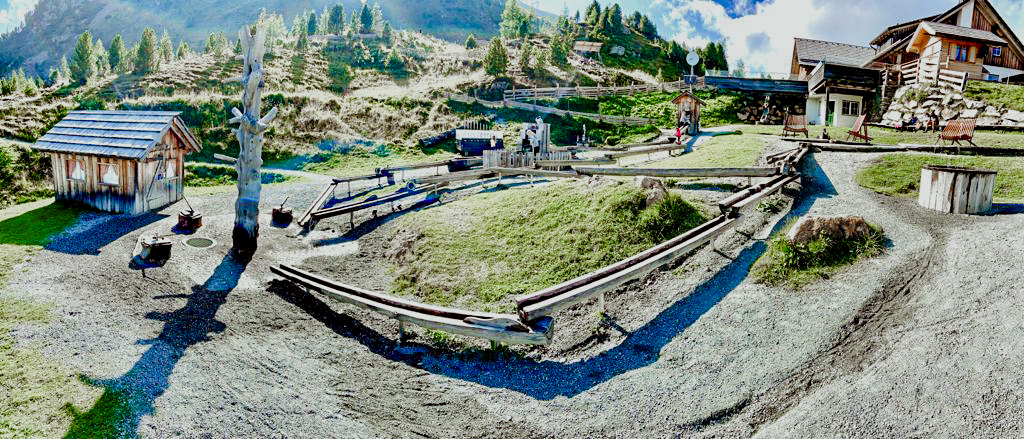 Nocky's Almzeit
Go up with the lift in Turracher Höhe. Then you come directly to the walk. Nocky's Almzeit is a trail with seven fun children's activities. Musical games, sand, water, swing, balancing bridge, climbing web... and much more. Time becomes a game'.
Afterwards, you can eat or drink something in the cosy restaurant at the top, while the children are playing with the water activities. Then take the Nocky Flitzer (toboggan) back down.
**This is one of our children's favourite activities
Distance from the Lodge: 20 minutes
Open from the second half of May until November
Free with Kärnten card on the lift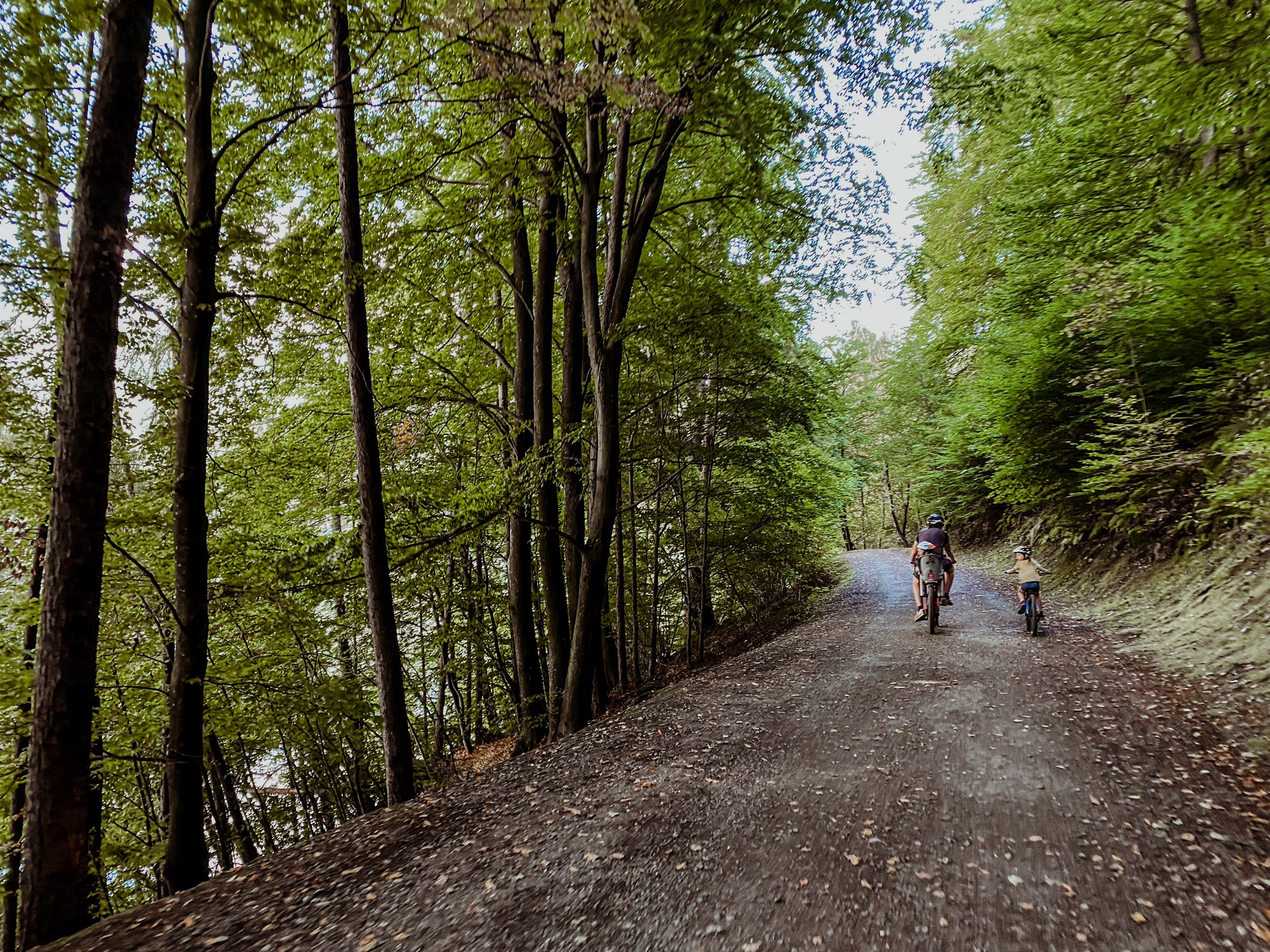 Bicycle tour with the whole family
A day without hiking? But still want to keep moving?
E-mountainbiking is highly recommended.
In addition to the various mountain bike trails that you have here in the area, you can also experience bike rides around the beautiful lakes.
More info? Just ask, we will map out the best route with you!